Whether you have a heat outage or want to upgrade your AC unit, call JZ Electric Ltd. at 604.725.7983 to schedule HVAC services with our professional technicians!
At JZ Electric Ltd., we offer fast, quality HVAC services to homes and businesses in Vancouver, Burnaby, Coquitlam, Langley, Surrey, and the surrounding areas. When your air conditioner quits on you mid-summer, our team will arrive as quickly as possible, ready to offer excellent customer service and unrivalled HVAC expertise to resolve your issue in no time. You can rely on our team with over 10 years of experience helping homes and businesses enjoy energy-efficient, comfortable living with our valuable, timely services.
Comprehensive Heating, Cooling, and Ventilation Services in Vancouver 
We provide comprehensive heating, cooling, and ventilation services, including installations, repairs, and regular maintenance to ensure that your HVAC system works well all season. Whether your heater stops working or you want to install a new air conditioning solution, our team can help!
Stay Warm All Winter With Heating Repairs and Upgrades
The last thing you need is an AC failure in the middle of a hot summer day. Luckily, your air conditioner typically displays signs before it quits entirely. If you notice any of the following symptoms, call our team for HVAC services immediately so we can resolve the issue before you're left in the heat:
Weak airflow
Warm air blowing from vents
Condensation building up around the unit
Musty odours
Loud clanking sounds
Uneven cooling
High humidity
Frequent on-off cycles
Suddenly high energy bills
Our team works with a range of AC units, including central air conditioner systems, wall units, ductless mini-splits, smart air conditioners, and more. Regardless of your issue, we will arrive as quickly as possible to locate the damage and create a repair plan. In many cases, your AC may simply require a new filter or refrigerant refill.
In more complex cases, we may recommend replacing your unit to save you money in the long run. We can help you select the right type of air conditioner based on your average cooling usage, budget, and property size. Our team installs only the highest quality, most energy-efficient systems that can help you cut your utility bills each month. 
HVAC Maintenance To Keep Systems Running Smoothly
HVAC systems require constant upkeep for optimal performance. Our maintenance program ensures that your system runs smoothly all season, so you can rest easy knowing it won't suddenly fail when you need it most. 
With HVAC maintenance, you can save money on energy and repair costs while extending the lifespan of your system and improving your indoor air quality. 
Our comprehensive maintenance services cover every base, from changing filters and lubricating parts to checking all components for damage. If we locate any issues, we will repair them immediately to prevent further damage.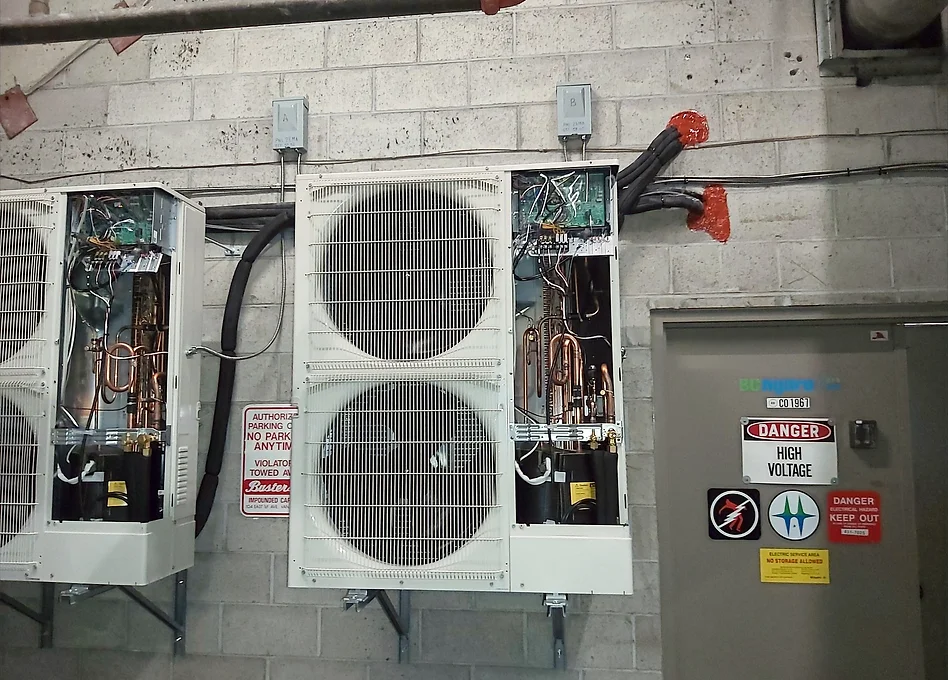 Why Choose Our HVAC Services
A few reasons you should choose JZ Electric Ltd. for your HVAC services include the following
10 years of experience serving commercial and residential clients in Vancouver
Positive customer experiences every time
Value-based recommendations given with all repairs and replacements
Skilled technicians with ample experience installing equipment for optimal longevity
Prompt scheduling and strict appointment adherence 
High-quality products and parts designed for ideal energy efficiency 
Affordable services centred around your budget and needs
Schedule Your HVAC Service Today
Call JZ Electric Ltd. in Vancouver today at 604.725.7983 to schedule HVAC services with our expert team.